Description
High-precision Displacement Measurement Sensors Bringing Smart Sensors into New Fields.
ZS-HL Series
Very High-performance Sensors that Support Core Quality from Very Long-range to Extremely Precise Measurements
Range of models with measuring center distance of 20 to 1,500 mm.
Achieves maximum resolution of 0.25 μm.
Maximum response speed of 110 μs.
Parallel output supported.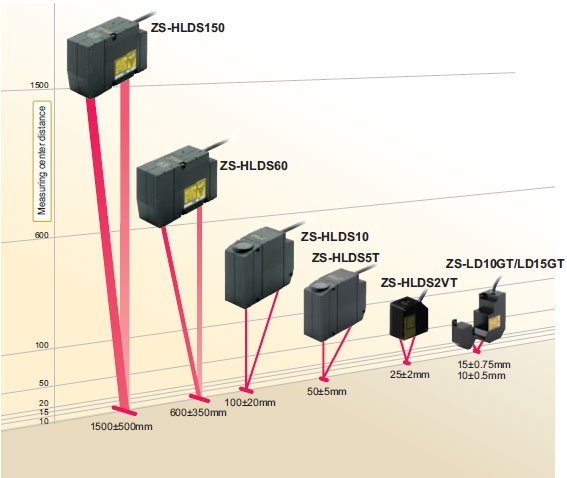 All Models Are Class 2 Lasers.
Extreme Stability
Ideal Size and Stability
Head Size
Complete sensing stability with optimum Sensor Head size for best performance and holding mechanism secured at 3 points. (See note.)
Note: ZS-HLDS2T not applicable.
Superior Moving Resolution
Increased Lens Resolution
Moving resolution (error based on workpiece surface position) has been reduced dramatically by optimizing the optical system with increased sensitivity and resolution of the light receiving lenses.
Reduced Error for Different Materials
2D CMOS
With a CCD, the charge overflows to the next pixel when excessive light is received. This phenomenon does not occur with CMOS, so there are no effects from light fluctuations from different materials or excessive light reception.
ZS-L Series
Standard Sensors Most Suitable for a Variety of High-precision Displacement Measurements, Including Spot Detection, Wide-range Detection, and Long-distance Detection.
Beam Shapes
Spot and line beam selection.
Wide Range of Products
Long-range, middle-range, and short-range models.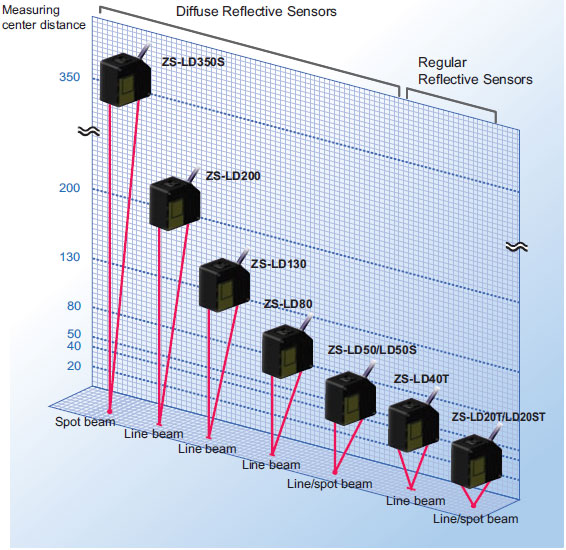 Rate Artikel Ini
[Total:

0

Average:

0

/5]