Description
Optimized installation and setup Increased machine productivity Global availability and global conformance
State of the art technology applied to general purpose servo
Improved machine design. Increased machine productivity
Designed to meet the machine requirements, the 1S servo technology optimizes the full cycle, through the machine design, installation and commissioning tasks and finally to the maintenance once in production. In addition to the traditional motion solution, the 1S servo offers high resolution multi-turn encoder without battery backup, safety network built-in and improved loop control allowing accurate and higher machine productivity.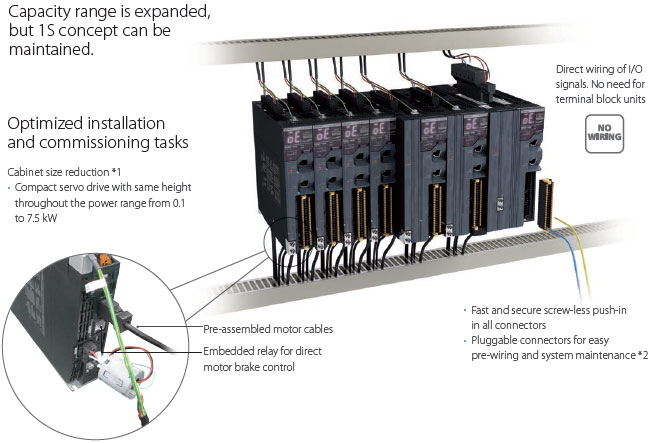 Servo features
Power range from 50 W to 15 kW *2
23 bit high resolution encoder
Battery-free absolute multi-turn encoder
Improved loop control for low overshoot and quick settling time
Safety function built-in:
Hardwired Safe Torque Off:
EN ISO 13849-1(Cat.3 PLe), EN61508(SIL3), EN62061(SIL3), EN61800-5-2(STO)
Safety over EtherCAT(FSoE):
EN ISO 13849-1(Cat.3 PLd), EN61508(SIL2), EN62061(SIL2), EN61800-5-2(STO)
*2. The 3000-r/min servomotor of 5 kW (200 VAC) and 1500-r/min servomotors of 4 kW and 5.5 kW (200 VAC) will be available soon.
Simplified machine design and maintenance
No battery, no maintenance
No need for homing sequence improving machine uptime
23 bit high resolution encoder as standard
Absolute multi-turn encoder design without mechanics: 16 bits, 65536 turns
Compact and smaller motor size
50% setup time reduction*

Totally integrated, totally in control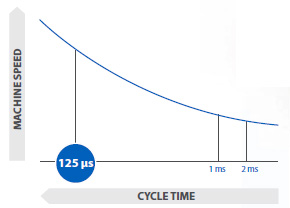 HIGHER PRODUCTIVITY
125 μs system cycle
Faster machine speed keeping same accuracy
Accurate profile generation in the controller
The 23 bit high resolution encoder in combination with the improved loop control provide an accurate following profile
INTEGRATED SAFETY
Safety control via EtherCAT
Simplified safety installation
Reduction of safety devices
Safety function built-in: Fail Safe over EtherCAT (FSoE) Safe Torque Off
Safety approval: EN ISO 13849-1(Cat.3 PLd), EN61508(SIL2), EN62061(SIL2), EN61800-5-2(STO)
Troubleshooter integrated with Sysmac Studio

TOTALLY IN CONTROL
Sysmac Studio
Simplified servo setup: Direct use of servo sizing calculation
Open standard IEC 61131-3 programming
Standard PLCopen Function Blocks for Motion and Safety
Sysmac Library for fast engineering and optimized machine availability
Application libraries
Optimized productivity
Predictive maintenance
Reduced downtime
Sysmac Automation Platform
Software
Sysmac Studio, the integrated software
One single tool for logic sequence, motion, safety, robotics, vision and HMI
Fully compliant with open standard IEC 61131-3
PLCopen Function Blocks for Motion and Safety
Supports Ladder, Structured Text and In-Line ST programming with a rich instruction set
CAM editor for easy programming of complex motion profiles
Database Connectivity Function Block library
Sysmac Library
The Sysmac Library is a collection of software functional components that can be used in programs for the NJ/NX
Machine Automation Controllers. Sample programs and HMI screen samples are also available.
Please download it from following URL and install to Sysmac Studio. http://www.ia.omron.com/sysmac_library/
Rate Artikel Ini
[Total:

0

Average:

0

/5]