Description
Even Simpler Equipment Operation with Outstanding Synergy.
NS, the HMI brand you can rely on
Machine Control at Your Fingertips.
On-screen Machine Management.
The Best Match Possible
The amount of work and cost of connecting to OMRON PLCs and components have been greatly reduced. The results is an incredible range of features that is possible only when unifying to one manufacturer.
Machine Management Tool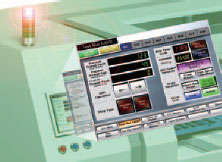 The machine designer can easily implement PLC troubleshooting, machine troubleshooting, settings for servo drives, temperature controllers, and other control components, status monitoring of connected devices, and uploading/downloading of parameters.
Proven Reliability
In the ten years since initial marketing, OMRON has globally supplied numerous HMI solutions with the highly reliable NS Series at over 200 sales and service centers around the world.
A Revolutionary Best Match
The NS-series PTs provide revolutionary compatibility with the road-proven CS/CJ-series PLCs and the new NJ/NX-series Controllers to achieve even greater added value in user machines.
The NJ/NX-series Machine Automation Controllers Revolutionize Productivity
You can create a flexible, high-speed, high-precision system based on the NJ-series Machine Automation Controllers.
Use tags to access any memory areas, or troubleshoot machines and systems by using the NS-series PTs to make the most of the strengths of the NJ/NX-series Controllers and to manage machines.
The CS/CJ-series PLCs for the Reliability of a Proven Track Record
Features are provided to easily connect to CS/CJ-series PLCs to take advantage of their proven track record.
Many features that do not require screen creation or programming support everything from design through maintenance to take advantage of the compatibility of OMRON PLCs and PT and to serve as the face of your machines.
Power Support for All User Needs
From conceptual designs through commissioning, operation, and maintenance, the NS Series supports every user need.
Design
For Machine Automation Controllers NJ/NX-series
NJ Troubleshooter
Integrated NS-series PT simulation
Troubleshooter
CS/CJ-series PLC Troubleshooter
Machine Troubleshooter
Best Match with OMRON Products
Smart Active Prarts (SAP)
EtherNet/IP
Direct Connection to Temperature Controllers
Face Plate Auto-Builder for NS
Plentiful Graphing Functions
Screen Data Security Functions
CX-Designer Screen Design Software
Startup/Operation
Attractive, convenient features for easier operation
260,000-color Video Display
Maintenance
Features for reliability and complete maintenance
For details, refer to Data Sheet.
Rate Artikel Ini
[Total:

0

Average:

0

/5]