Description
Worlds smallest fully-integrated vision system.
Simplify multiple-device inspection systems by using a single camera
Traditional image inspections require one or more dedicated cameras to be paired with a code reader. Omrons F430-F/F420-F Series Smart Camera bundles all this functionality into a single device, dramatically simplifying application design. The single-camera solution also reduces the initial investment, cuts down on wiring work and keeps maintenance costs to a minimum.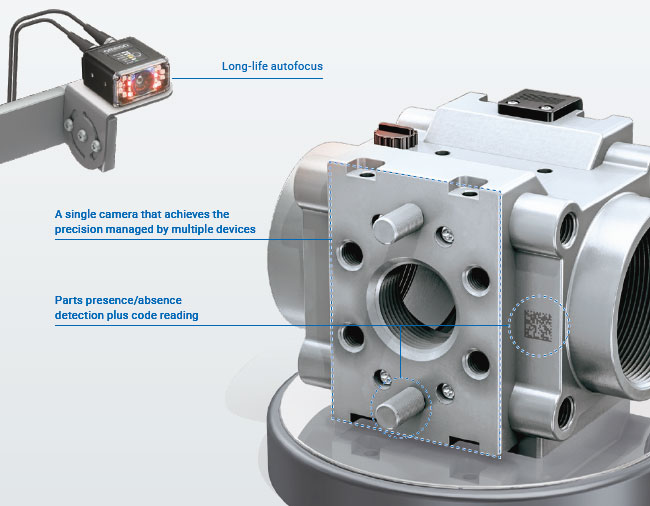 [Inspections | 01] A single camera performing powerful inspection tasks and code reading
Inspection, code reading and character reading all in one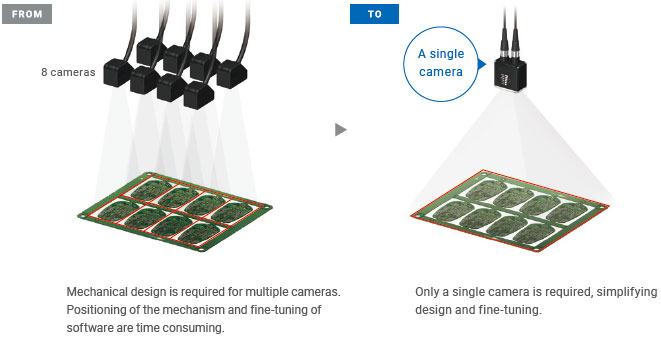 To perform a simple inspection task – such as presence/absence detection, color detection, etc. – along with a code or character reading, a highly-functional sensor or a sensor combined with a code reader for each purpose would be required. The F430-F/F420-F Series successfully performs both functions, simplifying inspection tasks overall.
Applications
[Inspections | 02] Multiple cameras in one to enhance precision
High-resolution 5-megapixel color camera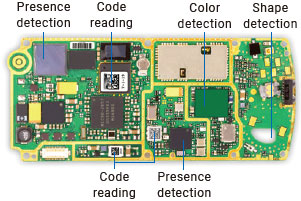 When using low-resolution cameras, multiple cameras are needed to divide a view in several sections and achieve the resolution required for inspections. The 5-megapixel color camera of the F430-F/F420-F Series delivers high-resolution imaging of multiple points with a single device.
*1. Inspections using up to 12 color cameras with 0.3-megapixel are possible at once by a single color camera with 5-megapixel.
Applications
[Inspections | 03] A single camera covering multiple parts that vary in size
Long life liquid autofocus lens
To inspect multiple parts that vary in size, an autofocus lens does not require multiple cameras or a mechanical structure to change camera position. In addition, its longevity is much greater than that of mechanical autofocus lenses, as these generally malfunction after repeated focus adjustments due to wear and tear on the driving part or the motor. For a liquid lens, there is no limitation on the number of focus adjustments.
Liquid lens: How it works

For target parts with varying heights, the liquid lens on the F430-F/F420-F Series flexibly changes its focal length by applying a voltage to alter the shape of an internal oil-water interface.
Applications
Simple to mount on small robots
The lighting module, lens and controller (sometimes referred as amplifiers) are integrated into the F430-F/F420-F's compact body, enabling it to be mounted on a small robot. There is no need to wire any cables between the camera and the amplifier in this single-device solution.
A single screen makes settings adjustments easy (AutoVISION Software)
Rate Artikel Ini
[Total:

0

Average:

0

/5]